commercial industrial rooftop solar mainland china white paper
COMMERCIAL & INDUSTRIAL ROOFTOP SOLAR IN MAINLAND CHINA WHITE PAPER | 中国工商业屋顶太阳能电站白皮书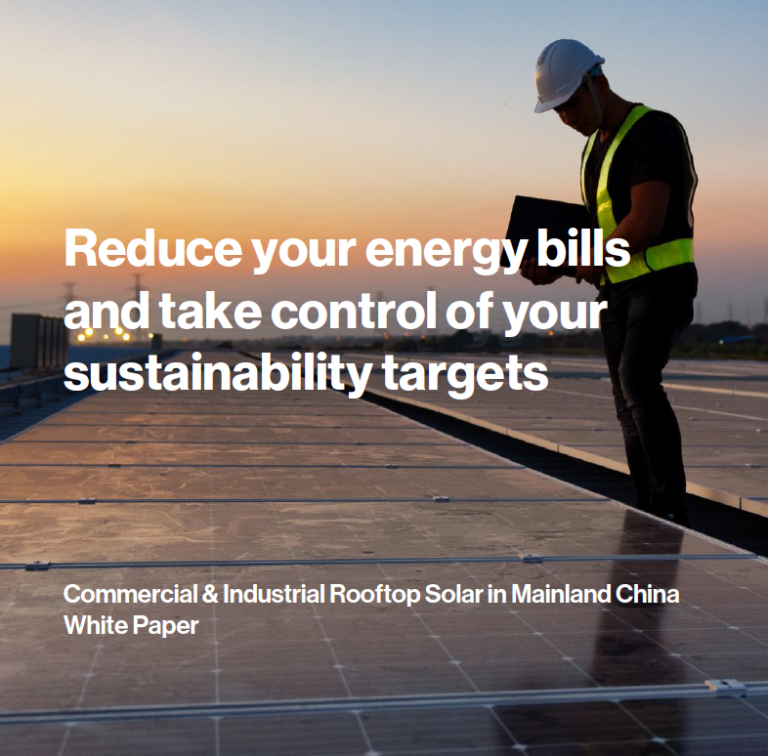 EXECUTIVE SUMMARY
Thanks to a range of innovative technical developments, transitioning to solar energy has never been more affordable for businesses. Over the last decade, the costs for solar systems have decreased dramatically in favour of the buyer. As a result, a solar energy system purchase not only pays for itself, but it gives businesses the option to lower costs and lock-in decades of predictable energy expenses, replacing fossil fuel based electricity with clean and green energy.
This white paper covers the basic of commercial and industrial solar energy in Mainland China, explaining the options available, their respective benefits and what you should consider before moving forward with a solar project.
While starting a solar project may seem daunting, Greenfield is here to help. With over 108 years of cumulative team experience in the renewable energy field, Greenfield knows how to successfully deploy solar installations, providing superior technology, solar policy analysis, project financing, site analysis, educational tools, and a host of other tools, support and consulting.
From site assessment to installation to operation and maintenance (O&M), Greenfield can help ensure your solar project proceeds as smoothly as possible and produces reliably for the long-term.
执行摘要
得益于一系列创新技术的发展,企业从使用传统能源向使用太阳能源过渡在今天已变得轻松且负担起。在过去的十年里,太阳能系统成本已大幅下降且极大地利好买方市场。 因此,采购一套太阳能发电系统不仅可以让企业从其产出的能源中赚回成本,还能为企业提供可靠的降低未来数十年能源成本支出的选择,以及使用清洁绿色能源替代化石能源的环保效益。
这份白皮书涵盖了中国市场工商业太阳能项目的基本知识,解释了具备市场可行性的几种商业模式,每种商业模式各自的优点,以及在推进太阳能项目之前我们应该考虑什么。
或许启动一个太阳能项目会让您产生很多顾虑,这正是绿丰能够提供帮助的地方。绿丰在可再生能源领域已有超过108年累积的团队经验,我们深知成功部署太阳能系统的各项要点,绿丰团队可以为您提供市场领先的技术、太阳能政策分析、项目融资、现场勘查、学习工具及其他辅助工具、各类支持和咨询。
我们的服务范围从项目前期的现场评估,到太阳能系统的安装建设、再到太阳能系统的运营维护,可以覆盖太阳能系统的全生命周期。绿丰可以帮助并确保您的太阳能发电项目尽可能顺利地实施,并长期可靠地运营。
To read full report, please click links down below. 请点击下方链接下载完整版报告
In English(英文), click here.
In Chinese(中文), click here.