journey east how swedish companies conduct communication china mini white paper
JOURNEY TO THE EAST – HOW SWEDISH COMPANIES CONDUCT COMMUNICATION IN CHINA – A MINI WHITE PAPER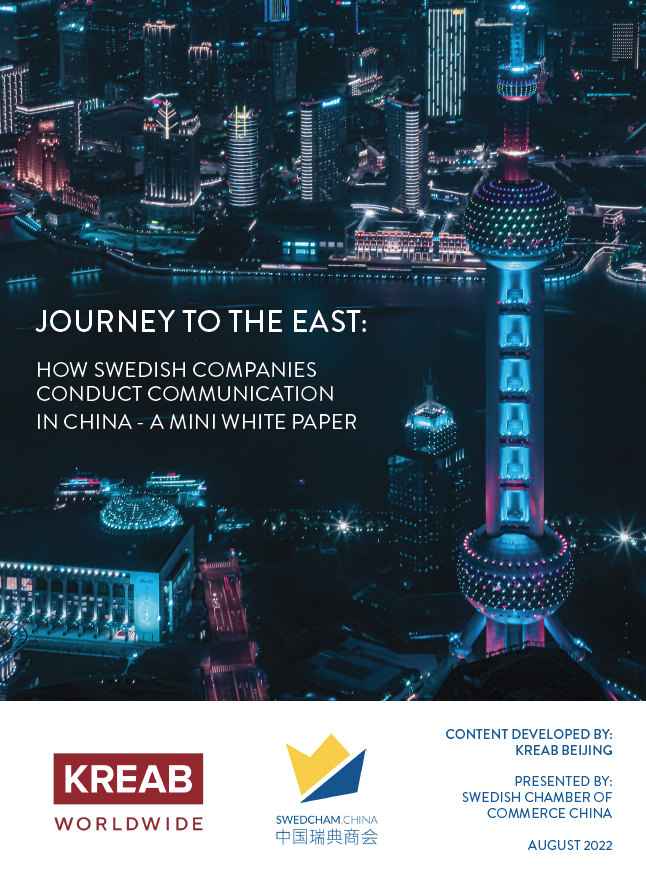 Background & Methodology
Swedish enterprises have a long history of operating in China. Over the past century, and especially since China's economic reform in 1978, innovative and groundbreaking Swedish companies had proactively contributed to many milestone developments in China's economy. In the current fast-changing world, despite many never-before-seen challenges and difficulties in front of us, Swedish enterprises continue to thrive and grow in China, which is arguably the world's largest market. 
Two questions dominate about how Swedish companies were able to manage their success, navigate challenges, and function on an operational level in China: 
A) how do Swedish companies communicate with the Chinese public, authorities, and partners to deliver their business ideas, sell their products, and integrate their ESG concepts with the locale? 
And…
B) how do Swedish companies in China communicate with their headquarters to report on the reality of the Chinese market? 
Bearing these two questions in mind, Kreab Beijing and SwedCham China came together to seek answers. In the past months, we conducted in-depth interviews with colleagues of 8 renowned Swedish companies operating in China who are in charge of communications, public affairs, and marketing, learning from their first-hand experience to consolidate this mini white paper. In this mini white paper, we present you with the complexities of conducting communications from the ground in China. We hope this will help Swedish companies better understand what's happening here, and what else you can do to enhance two-way communications between the HQs and local branches. 
Click here to download and read full report.