Sustainability by Monitor
In 2026, all small and mid-sized enterprises in the EU will be required to file sustainability reports under the new ESRS (European Sustainability Reporting Standards) standard. Our new Sustainability by Monitor functionality helps you to measure your carbon footprint, evaluate the data and adopt strategic measures to cut emissions and consumption of resources.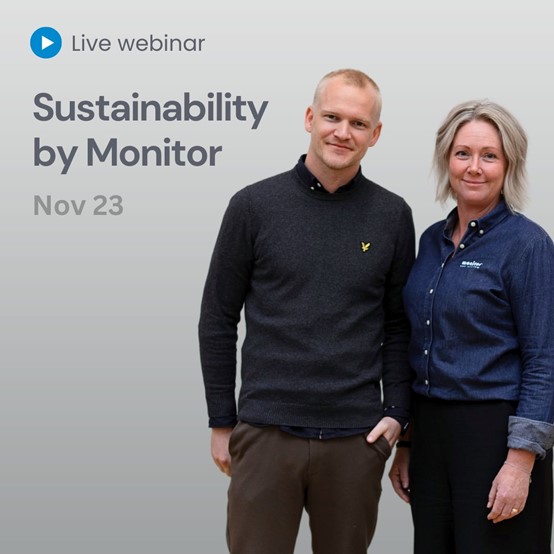 Wanna check out how it works? Join our webinar on November 23, and explore how Monitor ERP's latest features, launched this fall, can transform your manufacturing activities. With the ability to easily measure carbon footprint and perform sustainability calculations, adhering to the EU's CSRD directive and ESRS standard becomes effortless.
It's free and open to everyone. Register today and be part of our journey towards a greener future. Together, we can make a difference!
Click here to register:
https://www.bigmarker.com/monitor-erp-systems/Sustainability-by-Monitor-eng-c5745aed6f99c79cc8ca6de7?show_live_page=true
Read more about Sustainability by Monitor: https://www.monitorerp.com/sustainability-by-monitor/
When: Thursday, 23/11/2023 · 16:00 Beijing (GMT +8:00)
Agenda:
This is Sustainability by Monitor

The new sustainability features in Monitor G5

How Monitor ERP facilitates users in adhering to the EU's CSRD directive and ESRS standard

How we work towards a sustainable future
Language: English